Decking > Wolf Decking
Wolf perspective decking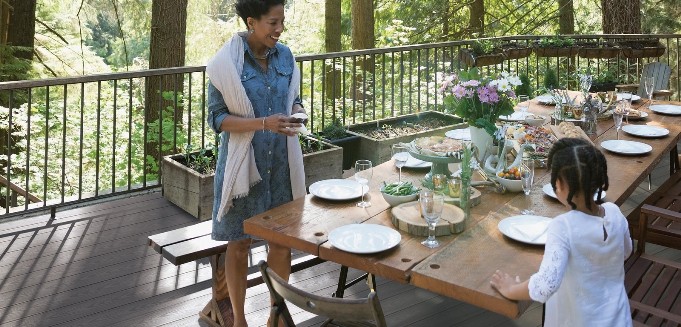 Photo: Wolf Perspective Captiva - Potamic Grey
Take in the outdoors with decking that takes durability and style to a new level. Wolf Perspective Decking offers industry-leading strength and performance, plus the look of real, high-end wood can add a premium appearance to your backyard escape.
Is it the beauty of the wood grain? The freedom to never stain or seal again? Is it the way your deck or porch will last and last without rotting, cracking or splitting, no matter what Mother Nature can throw at it? Or maybe it's the amazingly affordable price for which you can enjoy all of the above. We'll let you decide as you enjoy your beautiful outdoor living space for years and years to come.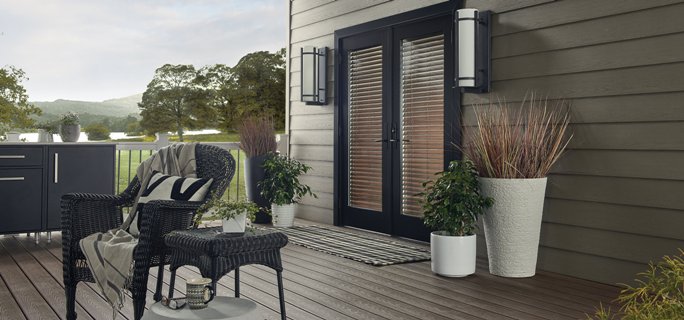 Photo: Wolf Perspective Captiva - Acacia
About Wolf PVC decking.
WOLF PVC decking is a special blend of PVC polymers, for a harder, more durable finish. Natural colors and elegant raised grain give the appearance of wood without requiring laborious staining or sealing. Wolf PVC decking is durable, lightweight and virtually impervious to moisture, mold and mildew. It's easy to install with traditional tools. And it comes with a limited lifetime warranty against blistering, peeling, flaking, cracking, splitting, cupping, rotting or structural defects from termites or fungal decay.
Made right here in the U.S.A., WOLF PVC decking will provide a beautiful outdoor living area that will stand up to heavy use and to Mother Nature.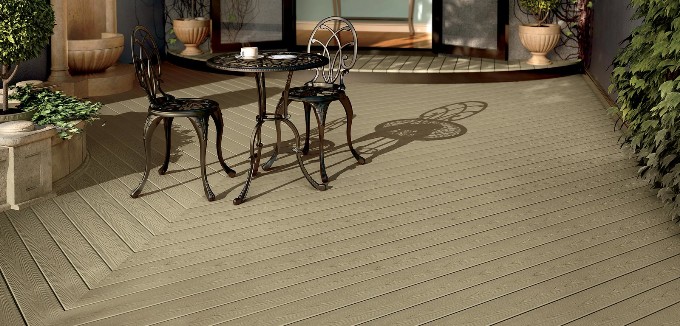 Photo: Wolf Perspective Captiva - Willow
CAPTIVA PLUS DECKING COLLECTION
Wolf Perspective Decking features Fiber Sequencing Technology. A unique core is made of densely packed coil-like strands of fiber encased in thermoplastic. Each board is then capped with a strong outer shell that helps prevent rot, decay, splinters, cracks and water absorption, resulting in long-lasting beauty.
Superior PVC capstock resists scratches and provides optimal UV performance
Cellular PVC core contains no organic fillers — virtually impervious to moisture
Won't rot, stain, warp or split
Mold and mildew resistant
Compatible with traditional and hidden fastening systems
100% recyclable
Specifications:
ICC Code Approved – CCRR-0174
Stylish, natural, solid colors with deep-embossed woodgrain texture
Deck board sizes 1" x 5 ½" x 12', 16′ and 20′
Fascia size 7/16" x 11 ¾" x 12'
Captiva Decking C

o

l

o

r

O

ptions:

Acacia

Cedar Ridge
Potamic Grey

Acacia

Willow
ADD EVEN MORE LIVING SPACE BELOW YOUR DECK

Dexerdry® : Create a tight seal with easy-to-install inserts that fit between boards and act like gutters.
Wolf Serenity decking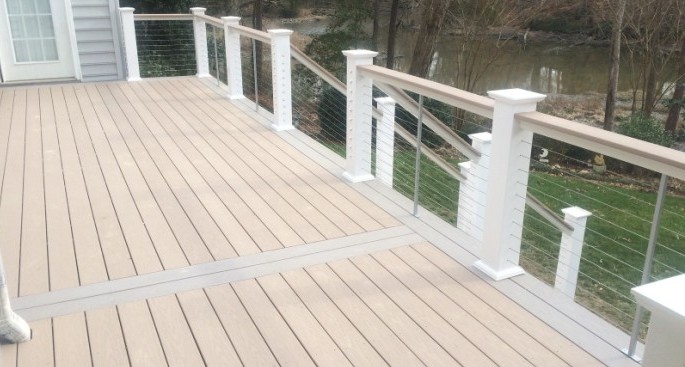 Photo: Wolf Serenity - Sand Castle with Harbor Grey Boarder
Enjoy low-maintenance decking with the color variation and texture of real wood when you select Wolf Serenity™ Decking with High-Density Cellular™ Technology. Its moisture repellency makes it ideal for rainy and coastal regions. Plus it maintains its color, even in the sun, so you can expect long-lasting beauty.
COLORWATCH100™ TECHNOLOGY
Wolf Serenity Decking features a proprietary ColorWatch100™ premium ASA capstock, which helps block harmful UV rays to promote color retention — even in the dog days of summer.
Seaside DECKING COLLECTION:
Cellular PVC core for superior strength
ASA* capstock retains color under prolonged exposure to sun and weather
(*ASA is a proven thermoplastic resin system used in hundreds of outdoor and other construction uses that require supreme weather resistance.)
Specifications:
ICC Code Approved – CCRR-0141
Deck Boards Sizes: 1″ × 5½" available in 12′,16′ and 20′ lengths
Seaside Decking C

o

l

o

r

O

ptions:
| | |
| --- | --- |
| | |
| Sand Castle | Harbor Grey |
Tropical Hardwood DECKING COLLECTION: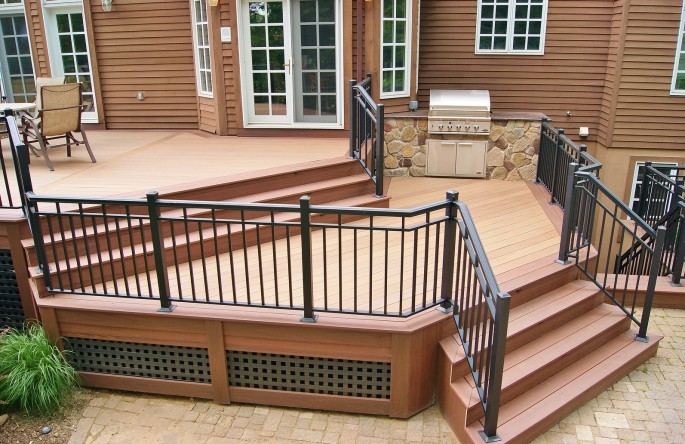 Photo: Wolf Serenity Collection - Amberwood and Rosewood
Give your deck the look of premium teak and rosewood with WOLF's Tropical Hardwood Collection. This attractive collection combines a warm, inviting appearance with the amazing weather resistance of PVC and ASA polymers for exceptional beauty and durability.
Compatible with traditional and hidden fastening systems, the Tropical Hardwood Collection will not rot, splinter, crack or delaminate, and are impervious to insects, moisture, mold and mildew. And they're backed by a limited lifetime warranty.
The Tropical Hardwood Collection:
Cellular PVC core for superior strength
ASA* capstock retains color under prolonged exposure to sun and weather
(*ASA is a proven thermoplastic resin system used in hundreds of outdoor and other construction uses that require supreme weather resistance.)
Specifications:
Tropical Collection ICC Code Approved – CCRR-0141



Deck Boards Sizes: 1″ × 5½" available in 12′,16′ and 20′ lengths
Tropical Collection C

o

l

o

r

O

ptions:

Amberwood

Black Walnut

Cypress

Driftwood Grey
Rosewood
Silver Teak
Teakwood
Weathered Ipe