Wolf Endurance outdoor cabinets

Sturdy aluminum cabinetry for demanding areas, such as decks, patios, garages, and mudrooms. You love spending time outside, so your outdoor living area should also be functional and convenient. By adding Wolf Endurance cabinets, you can quickly turn your outdoor living space into the ultimate oasis.
With a powder-coated finish and sealed storage to withstand the elements -- even in coastal regions -- Wolf Endurance is easy to configure, handle and install, and the price is easy on your wallet. Once installed, they will instantly go to work for you. Whether for your deck or patio or even your garage, these cabinets can hold whatever items you choose safely for many years. Wolf Endurance has its name for a reason — it will withstand the test of time and anything the outdoors throws at it.
Wolf endurance colors

TOUGH
PERFORMANCE
Wolf reliability means peace of mind, so you won't worry about the things you keep outdoors.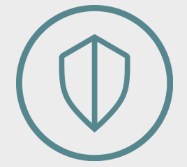 Durable aluminum construction at a cost substantially less than stainless steel. Wolf Endurance cabinets are lighter in weight, giving you design flexibility now and in the future.
Our exclusive all-weather finish meets AAMA 2604 specifications. No matter what the climate is like in your area, your outdoor cabinetry will power through it all and hold up over the years.
Sealed storage keeps supplies dry inside, and rain and moisture outside. Store food and snacks outside for a quick bite so you can get back to your favorite activities.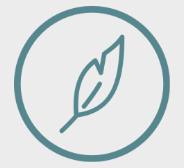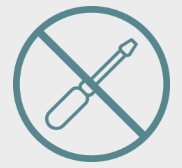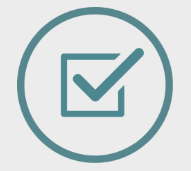 Lightweight, easy to handle and install. Gone are the days of having to deal with bulky and cumbersome outdoor cabinets. Need to move? No problem!
Freestanding and ready to use right away. Quick and easy installation means you can start using your new cabinetry the same day that it's installed.
Custom configurations and adjustable legs that accommodate every surface. From a single cabinet to a custom-inspired configuration, Wolf outdoor cabinets offer storage solutions for any space.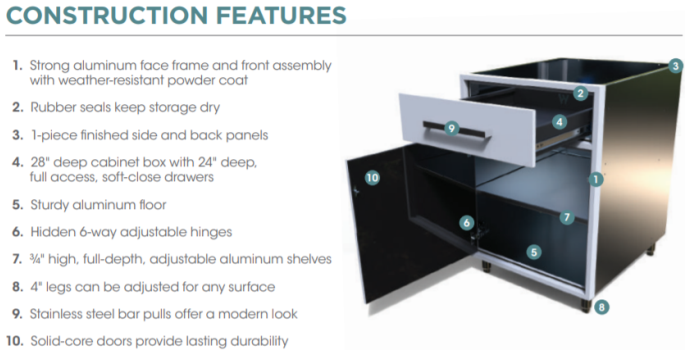 Cabinet
options
design ideas
Create your own perfect combination, or borrow one of ours. Wolf Endurance Outdoor Cabinets are easily paired to create stunning designs with simple installation. Here's a few ideas to get you started.
WEEKENDER
STAYCATION
60" W x 28" D
• (1) PPBV18L
• (1) GGBV42 • (2) FSP31
For use with propane tank. For use with direct gas hookup, substitute B18L for PPBV18L
84" W x 28" D
• (1) PPBV18L • (1) BWB24
• (2) FSP31 • (1) GGBV42
For use with propane tank. For use with direct gas hookup, substitute B18L for PPBV18L

OASIS

ENTERTAINER

108" W x 28" D


• (1) PPBV18L • (1) GGBV42




• (1) BWB24 • (1) B24FHR • (2) FSP31




For use with propane tank. For use with direct gas hookup, substitute B18L for PPBV18L

115" W x 90" D
• (1) PPBV18L • (1) GGBV42 • (1) BWB24
• (2) FP3 • (2) FSP31• (1) BC48L
• (1) DB24 • (1) B18R


For use with propane tank. For use with direct gas hookup, substitute B18L for PPBV18L

REGAL

108" W x 109" D
• (1) SB36 • (1) BWB24 • (1) BC48R • (1) PPBV18L
• (1) GGBV42 • (1) B18R • (2) FSP31 • (2) FP3


For use with propane tank. For use with direct gas hookup, substitute B18L for PPBV18L

BISTRO

CLASSIC

48" W x 28" D
• (1) BWB24 • (1) B24R
• (1) MB48 • (2) FSP31
48" W x 28" D


• (1) B24FHL • (1) B24FHR




• (1) MB48 • (2) FSP31

HAVEN

COURTYARD

72" W x 28" D


• (1) B24FHL • (1) DB24 • (1) B24FHR


• (2) FSP31
• Optional Mobile Cart: MB72
96" W x 28" D


• (1) BWB24 • (1) B24FHL • (1) B24FHR




• (1) B24R • (2) FSP31




• Optional Mobile Cart: MB96

GRILLMASTER

132" W x 28" D (with 36" wide grill)


• (1) B24FHL • (1) BWB24 • Freestanding Grill • (1) B24L • (1) B24FHR • (2) FSP31